Elevation:
3022 ft / 921 m
Temperature:
60ºF / 16ºC
Conditions:
I-90 westbound milepost 84 to milepost 33: Due to heavy traffic volumes westbound traffic is experiencing up to 30 minutes of added travel time from CleElum to North Bend. There is no estimated time for traffic to return to normal.
Weather:
Restrictions Eastbound
No restrictions
Restrictions Westbound
Traffic Delayed
Updated: 9:01 PM, Aug 19, 2018
This is the most current info available and is promptly updated when conditions change.
Snoqualmie Summit on I-90 @ MP52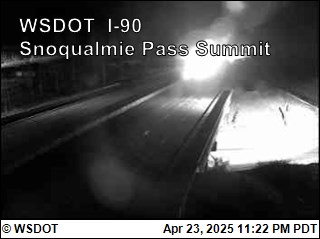 Franklin Falls on I-90 @ MP51.3
East Snoqualmie Summit on I-90 @ MP53
All Snoqualmie Cameras