Elevation:
3022 ft / 921 m
Temperature:
39ºF / 4ºC
Conditions:
Pass is open. Westbound milepost 86 to 90, near Cle Elum, Tuesday, Oct. 16, through Saturday, Oct. 20 during daylight hours, traffic is reduced to a single lane for pavement repair. Anticipate added travel time.
Weather:
Restrictions Eastbound
No restrictions
Restrictions Westbound
Refer to conditions and weather column for current restriction information
Updated: 1:23 AM, Oct 17, 2018
This is the most current info available and is promptly updated when conditions change.
Snoqualmie Summit on I-90 @ MP52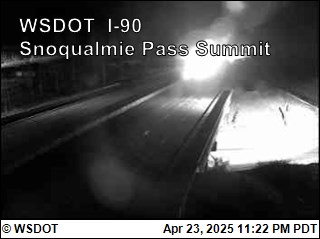 Franklin Falls on I-90 @ MP51.3
East Snoqualmie Summit on I-90 @ MP53
All Snoqualmie Cameras