Elevation:
3022 ft / 921 m
Temperature:
27ºF / -2ºC
Conditions:
Roadway is bare and wet. Watch for snow removal equipment and areas of narrow roadway.
Weather:
Snowing lightly
Restrictions Eastbound
No restrictions
Restrictions Westbound
No restrictions
Updated: 5:12 AM, Feb 16, 2019
This is the most current info available and is promptly updated when conditions change.
Snoqualmie Summit on I-90 @ MP52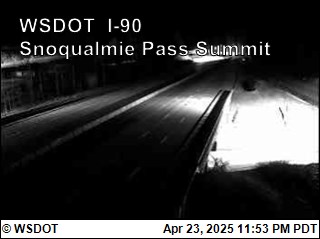 Franklin Falls on I-90 @ MP51.3
East Snoqualmie Summit on I-90 @ MP53
All Snoqualmie Cameras