Elevation:
3022 ft / 921 m
Temperature:
39ºF / 4ºC
Conditions:
Seasonal weather reports have ended for this winter. Traditionally weather is reported on this page from November 1 to April 1. Should adverse weather or other incidents occur that will impact travel, updates will be provided as information is available.
Weather:
Restrictions Eastbound
No restrictions
Restrictions Westbound
No restrictions
Updated: 2:49 AM, Apr 21, 2018
This is the most current info available and is promptly updated when conditions change.
Snoqualmie Summit on I-90 @ MP52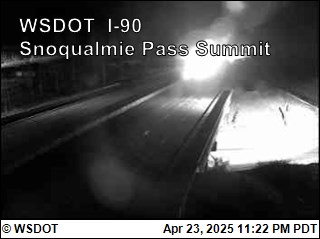 Franklin Falls on I-90 @ MP51.3
East Snoqualmie Summit on I-90 @ MP53
All Snoqualmie Cameras