Elevation:
4061 ft / 1238 m
Temperature:
54ºF / 12ºC
Conditions:
Seasonal weather reports have ended for this winter. Traditionally weather is reported on this page from November 1 to April 1. Should adverse weather or other incidents occur that will impact travel, updates will be provided as information is available.
Weather:
Restrictions Eastbound
No restrictions
Restrictions Westbound
No restrictions
Updated: 7:17 AM, Jun 23, 2017
This is the most current info available and is promptly updated when conditions change.
US 2 MP 64.8 East Stevens Pass Summit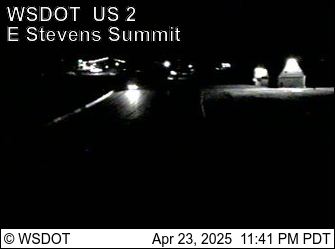 US 2 MP 64.5 West Stevens Pass - Ski Lodge
US 2 MP 70.5 Lower Mill Creek
All Stevens Cameras