Elevation:
3022 ft / 921 m
Temperature:
48ºF / 9ºC
Conditions:
This week on I-90 drivers may experience minor delays due to multiple work zones between North Bend and Ellensburg during the day and at night. Due to the Memorial Day weekend, we won't be working and impacting traffic Friday through Monday. However, due to the increase in traffic volumes we will see a spike in traffic volumes eastbound on Friday and westbound on Monday. Please plan for added travel time.
Weather:
Restrictions Eastbound
No restrictions
Restrictions Westbound
No restrictions
Updated: 4:27 AM, May 21, 2019
This is the most current info available and is promptly updated when conditions change.
I-90 at MP 52: Snoqualmie Summit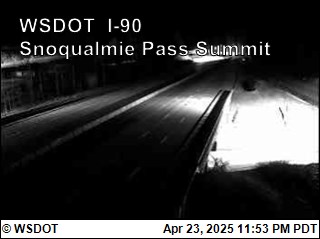 I-90 at MP 51.3: Franklin Falls
I-90 at MP 53.4: East Snoqualmie Summit
All Snoqualmie Cameras