Elevation:
3022 ft / 921 m
Temperature:
69ºF / 21ºC
Conditions:
I-90 milepost 34 to 137, North Bend to Vantage: There are a number of work zones between North Bend and Vantage. Motorists will experience minor delays due to lane closures and other traffic revisions in place for maintenance and construction activities. Motorists are reminded to slow down and obey all traffic control devices as you enter and exit our work zones.
Weather:
Restrictions Eastbound
No restrictions
Restrictions Westbound
No restrictions
Updated: 11:58 PM, Aug 04, 2021
This is the most current info available and is promptly updated when conditions change.
I-90 at MP 52: Snoqualmie Summit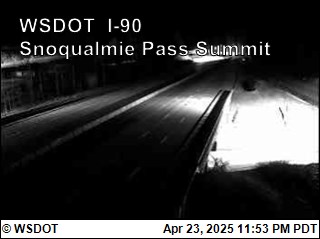 I-90 at MP 51.3: Franklin Falls
I-90 at MP 53.4: East Snoqualmie Summit
All Snoqualmie Cameras