Elevation:
3022 ft / 921 m
Temperature:
52ºF / 11ºC
Conditions:
Due to increased travel drivers will see added travel time on Fridays going eastbound between North Bend and the Cle Elum and on Sundays going westbound between Cle Elum and the summit of Snoqualmie Pass. We also have a number of work zones between North Bend and Vantage, which will cause minor delays this week Monday through Thursday during the day and at night. Please plan for added travel time, especially as we get closer to Labor Day weekend.
Weather:
Restrictions Eastbound
No restrictions
Restrictions Westbound
No restrictions
Updated: 8:09 PM, Aug 24, 2019
This is the most current info available and is promptly updated when conditions change.
I-90 at MP 52: Snoqualmie Summit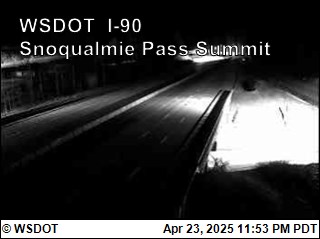 I-90 at MP 51.3: Franklin Falls
I-90 at MP 53.4: East Snoqualmie Summit
All Snoqualmie Cameras