Elevation:
3022 ft / 921 m
Temperature:
39ºF / 4ºC
Conditions:
It's going to be another busy week on I-90 due to multiple work zones between North Bend and Vantage. Please make sure you plan for added travel time, be patient and slow down through our work zones.
Weather:
Restrictions Eastbound
No restrictions
Restrictions Westbound
No restrictions
Updated: 7:26 PM, Jun 19, 2019
This is the most current info available and is promptly updated when conditions change.
I-90 at MP 52: Snoqualmie Summit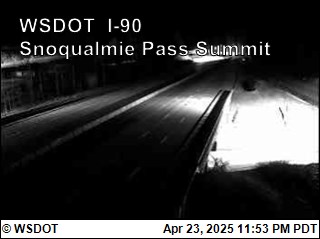 I-90 at MP 51.3: Franklin Falls
I-90 at MP 53.4: East Snoqualmie Summit
All Snoqualmie Cameras