Elevation:
3022 ft / 921 m
Temperature:
N/A
Conditions:
I-90 closure scheduled for rock blasting Wednesday night, Sept. 30 starting at 6 p.m. This closure is expected to last one hour or more. The eastbound lanes will be closed ten miles east of the summit at milepost 63, near Cabin Creek, and the westbound lanes be closed at milepost 70, near Easton.
Weather:
Updated: 7:32 PM, Sep 28, 2020
This is the most current info available and is promptly updated when conditions change.
I-90 at MP 52: Snoqualmie Summit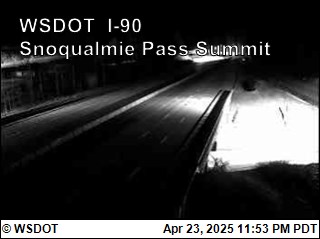 I-90 at MP 51.3: Franklin Falls
I-90 at MP 53.4: East Snoqualmie Summit
All Snoqualmie Cameras